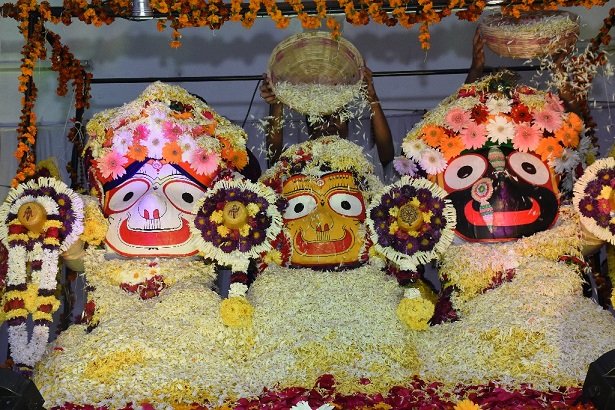 Pushpa Abhishek is the first festival of the year celebrated in January. Most festivals celebrated in the temple involve the Abhishek of the utsava murtis (small brass Deities); but on this special festival, the mula vigrahas or the main Deities of Sri Sri Jagannath Baldev and Subhadra are showered with  150 kgs of colorful flower petals. 
The preparation for the festival begins early morning, at 7:30 a.m. Many little mounds of flowers, of different colors and varieties, each with devoted hearts sitting around, plucking out tender petals: the preparation looks as festive as the festival itself. 
The Supreme Lord is the proprietor of everything, and so does not require anything more. He is not in need of food, wealth, palaces, jewels—or even flower petals. If these things are offered to Him without proper humility or devotion, He will not even look in that direction. The holy scriptures are filled with examples that illustrate this. While the Lord is averse to the offering done in the wrong attitude, he hankers for the offerings done in devotion. And what will the volunteers get in return for their devotional offerings? "… to experience the essence of real happiness, the treasures of the soul, is so easy. Whoever we are, but if we have the consciousness of humility, generosity, and devotion, any one of these flower petals that we pluck—any single one of them—can help us attain the highest perfection of life. That's how gracious God is." The plucking proceeds till dusk, as basket after basket gets brimmed with fragrant petals.
On this day, the pujaris dress the Deities in colorful flower garments and decorate them with exquisite floral ornaments. Series of flower decorations all over the altar and the temple hall add to the splendor of the festival. As the festive spirit intensifies during the course of the preparations, the real spectacle starts after dusk. Accompanied by melodious kirtans, the flower bathing of the Deities lasts for more than 30 minutes. As petals of various colors are showered upon their Lordships, the delight in the faces of the devotees is a sight to behold. Once the deities are bathed on the offered petals are then brought outside the altar and showered upon all the devotees. The festival concludes with delicious prasadam feast.